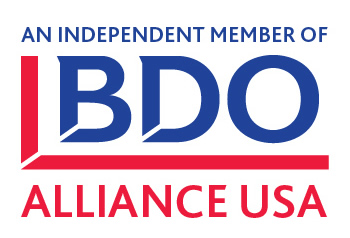 As an independent member of BDO Alliance USA, we are able to draw upon the resources and experience of BDO USA, LLP and other Alliance members.
Welcome
At Gibbons & Kawash, A.C. our focus is responding to your needs and exceeding your expectations. We combine broad technical knowledge developed from years of experience with an entrepreneurial approach to problem-solving to help our clients meet all the challenges before them. An extensive library of accounting, auditing, and tax planning materials and the latest in state-of-the-art technology are valuable tools in our development of innovative solutions. But perhaps the most important element in our approach is the personalized service that enables us to develop and maintain an in-depth knowledge of your business. Our professionals take the time to listen and acquire a thorough understanding of your business needs.
Firm News
Nonprofit Standard - A Newsletter of the BDO Institute for Nonprofit Excellence
With summer upon us, it is important for nonprofit organizations to take stock of their compliance and governance initiatives. Concerns about privacy, board governance, and strategy alignment are some of the topics covered in the latest issue.

Asset Protection - Shielding Your Individual Wealth Today
Many affluent individuals have worked hard for years to accumulate assets and create wealth, but haven't taken steps to protect their hard-earned assets. Learn strategies you can put in place.

Business Valuations: A Learning Process
A professional business valuation can serve many purposes beyond being a necessary step when a business owner is ready to sell the business: from being better able to secure financing to gaining a better understanding of the company.
Is Your Business Taking Advantage of the R&D Tax Credit?
One potentially lucrative tax break often overlooked by business owners is the research and development (R&D) tax credit. Learn the rules behind getting the credit.
How to Reap Tax Benefits From a Summer Vacation
People who are self-employed and planning a vacation this summer can potentially reap financial benefits by combining the summer getaway with a business trip and claiming some valuable tax deductions.
A History Of Service
25 years ago, our firm was founded on a commitment to provide clients with the highest quality services and professional guidance. That commitment remains paramount, and is deeply rooted in every aspect of our practice. It is the reason Gibbons & Kawash has become one of the area's leading accounting and consulting firms.

Planning for Social Security
More than 90% of Social Security recipients are not maximizing their benefits. Determining when to apply can be an overwhelming task that affects the amount you will receive for the rest of your life. Improper planning could cost you tens of thousands over the course of your retirement. Our comprehensive Social Security planning services provide you with an individualized plan for how and when to apply to maximize your Social Security benefits.
Contact Us
Timothy J. Gibbons, CPA/ABV,CVA,CFF,NSSA
Virginia Supcoe, CPA/ABV,CVA,CFE,NSSA