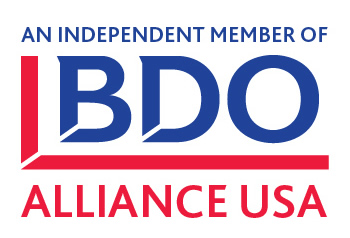 As an independent member of BDO Alliance USA, we are able to draw upon the resources and experience of BDO USA, LLP and other Alliance members.
Welcome
At Gibbons & Kawash, A.C. our focus is responding to your needs and exceeding your expectations. We combine broad technical knowledge developed from years of experience with an entrepreneurial approach to problem-solving to help our clients meet all the challenges before them. An extensive library of accounting, auditing, and tax planning materials and the latest in state-of-the-art technology are valuable tools in our development of innovative solutions. But perhaps the most important element in our approach is the personalized service that enables us to develop and maintain an in-depth knowledge of your business. Our professionals take the time to listen and acquire a thorough understanding of your business needs.
Firm News
Nonprofit Standard - A Newsletter of the BDO Institute for Nonprofit Excellence
Take a look at the latest issues for nonprofits including FASB exposure draft on accounting for contributions, Section 501(r) compliance concerns, turning obstacles into opportunities, critical conversations between managers and employees, and a beginner's guide to state nonprofit registration and audit requirement rules.

Saving for College - Debunking Some Common 529 Plan Myths
Section 529 plans have become one of the most popular tools to save for children's college education, largely because of their favorable tax treatment. Learn the five common myths to help take full advantage of the benefits.
They're Back: Audit Rules Targeting Partnerships Can Now Be Applied
The IRS has reissued proposed regulations, withdrawn earlier this year as part of the Trump administration's regulatory freeze. Learn what the new rules require and how they will affect a partnership's tax liability.
Reap the Tax Benefits of a Qualified Small Business Retirement Plan
An employer-sponsored retirement plan is an attractive way for executives and employees to save for retirement - and for the company to enjoy the tax advantages of setting one up. Explore features of three popular plans.
Hobby or Business? - The IRS Wants to Know
If a person generates side income from a passion like cooking, woodworking, or anything else they should be aware of the tax implications of earning this money. Learn how those implications vary depending on whether the activity is treated as a hobby or a business.
A History Of Service
Twenty-five years ago, our firm was founded on a commitment to provide clients with the highest quality services and professional guidance. That commitment remains paramount, and is deeply rooted in every aspect of our practice. It is the reason Gibbons & Kawash has become one of the area's leading accounting and consulting firms.

Planning for Social Security
More than 90% of Social Security recipients are not maximizing their benefits. Determining when to apply can be an overwhelming task that affects the amount you will receive for the rest of your life. Improper planning could cost you tens of thousands over the course of your retirement. Our comprehensive Social Security planning services provide you with an individualized plan for how and when to apply to maximize your Social Security benefits.
Contact Us
Timothy J. Gibbons, CPA/ABV,CVA,CFF,NSSA
Virginia Supcoe, CPA/ABV,CVA,CFE,NSSA